Batman: Arkham City is a videogame released in 2011. It was developed by Rocksteady Studios and published by Warner Bros. Interactive Entertainment. It is based off the DC Comics series following Bruce Wayne, the masked crime fighter and billionaire playboy. It is the sequel to the game Batman: Arkham Asylum which was released in 2009. The game features many famous voice talents including Kevin Conroy as Batman and Mark Hamill as The Joker, both of whom voiced those characters in the animated television series. The game is one of the fastest-selling games ever, the second best-selling of 2011 and one of the top-rated games of 2011. In short, it was very well-received and an example for how super hero games should be made.
The game follows the story of Arkham Asylum. During the course of Arkham Asylum Batman injects the Joker with something called the "Titan" formula. Arkham City follows Bruce Wayne being thrown into Arkham City (which is a prison for the Batman villains built inside Gotham) by Hugo Strange, who is trying to initiate a plan to kill the inhabitants of the prison. In confronting the plan, Batman must team up with Joker when Batman is injected with the Titan formula as well.
The backstory includes a Batman villain called "The Mad Hatter." His name is an obvious reference to The Mad Hatter in Alice's Adventures in Wonderland. According to Batman's lore, The Mad Hatter was a research scientist who was obsessed with Lewis Carroll's classic tales. He believes he is an incarnation of The Mad Hatter from Lewis Carroll's story. He is above all obsessed with his hat, he hates to show his actual head. He uses his skills as a hypnotist and scientific understanding of the brain to add mind-control devices to his hats and control people. His crimes often relate to the stories of Alice in Wonderland and Through the Looking Glass. In Arkham City, Hugo Strange approached The Mad Hatter and, by stealing his hats, got him to help convince Arkham Asylum warden Quincy Sharpe to move the Asylum to the middle of Gotham City by way of psychedelic mind control.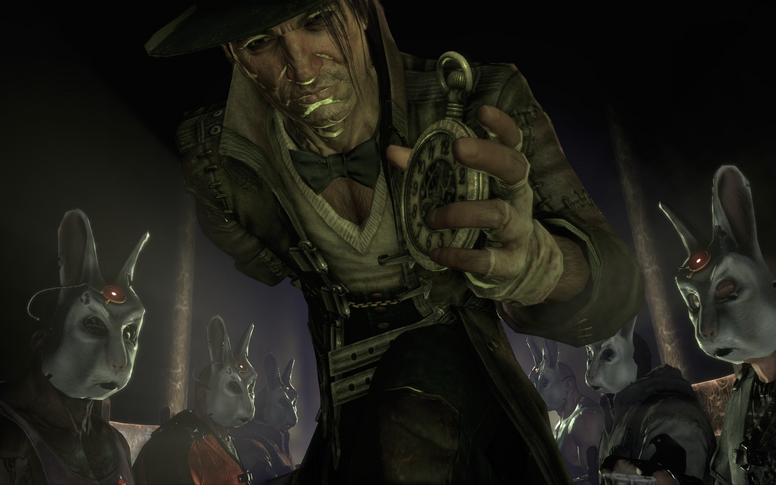 You meet the hatter yourself in the game after Batman injects himself with what he thought was a cure to the Titan formula. Batman passes out and finds himself tied to a chair by The Mad Hatter sitting in front of a table with numerous Arkham Asylum inmates under The Hatter's mind control wearing rabbit masks. The scene is meant to be demented take on the tea party from Alice's Adventures in Wonderland. The Mad Hatter then puts a mind control mask on Batman. You must then fight You must then fight through a psychedelic boss battle to defeat the Mad Hatter. It's revealed that the cure was actually a psychedelic drug from the Hatter. Once Batman defeats The Hatter in the game he smashes his hat.
EDIT: I found a video of the main Mad Hatter scene from Arkham City. You can view it on YouTube below (skip ahead to 1:32):