Bioshock is essentially a comprehensive response to Ayn Rand's political philosophy in regards to the way society should work secretly packaged as a video game. Ayn Rand is very popular for her controversial ideology of "Objectivism." What is so important about Bioshock is that it completely deconstructs the plausibility of Ayn Rand's arguments. (As a side note, this is what makes it one of the most important political texts since Ayn Rand's own novels or maybe even 1984 was released… in my personal opinion, of course.)
The main hero/villain of the game Bioshock is named "Atlas." The game deals with exploring the underwater city of Rapture, which was built by a businessman by the name Andrew Ryan. Ayn Rand would define him as an objectivist. His name is also a play off Ayn Rand's (both being "A.R."). The comparisons go on:
"Both Andrew Ryan and Ayn Rand were originally from the Soviet Union, but moved to America to avoid the increasing tensions of Socialism. Both created their own city to explore their ideas: Rand created Galt's Gulch in her novel Atlas Shrugged, while Ryan created Rapture." – Bioshock Wiki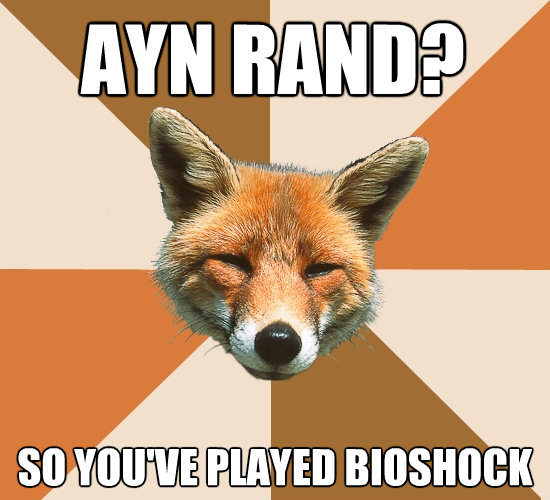 In Atlas Shrugged, the intelligent elite of society go on strike and disappear. The world falls to pieces, at which point the elite come back to rule the world. Rand's basic argument in Atlas Shrugged is that the pursuits of the elite, no matter how selfish, should be left unrestrained because they benefit the world.
In Bioshock, Andrew Ryan does just that. He builds a "Randian" society deep in the sea, free from "moral restraints" and governmental control. Andrew Ryan has generally noble intentions; to bring scientific discovery to a scale never before imagined. His goals are as fantastic as to basically bring mankind to the next plane of evolution, closer to godhood. However, the city is torn apart by other elite, intelligent businessmen whose selfish actions prove that Rand's objectivist society is impossible.
There is an especially important moment at the end of the game where the character is handed the key to city of Rapture. The meaning being that the economic elite can't be trusted to choose the path society should take for the greater good.